Managing Electrostatic Discharge Effects
Introduction
Electrostatic discharge (ESD) events have the potential to disrupt the normal operation of a competition robot. This section examines causes of ESD events and discusses ways to mitigate the risk that an ESD event will disable or damage a robot's control system.
Note that this section only provides a brief overview of the physical phenomenon that causes ESD disruptions. You can use the following link to view an in-depth white paper, written by Mr. Eric Chin (a FIRST alumnus and a 2018 summer engineering intern), which examines and quantifies the efficacy of various ESD mitigation techniques:
Eric Chin's White Paper on ESD Mitigation Techniques and their Efficacy
Special thanks to Doug Chin, Eric Chin, and Greg Szczeszynski for the work they did to model the problems caused by ESD and to evaluate different techniques to mitigate the risk caused by this phenomenon. Also special thanks to FIRST Tech Challenge Teams 2844, 8081, 10523, 10523a, and 10984, and the volunteer team from Arizona (including Robert Garduno, Susan Garduno, Richard Gomez, Matthew Rainey, Christine Sapio, Patricia Strones, and David Thompson) for assisting in testing some of these mitigation techniques under the hot desert sun!
What is an Electrostatic Discharge Event?
An electrostatic discharge (ESD) event occurs when a highly charged conductive object (like the metal frame of a robot) touches an uncharged or oppositely charged conductive object and discharges to it. Because of the high voltages involved (up to tens of kilovolts), ESD events can produce extremely high electrical currents as the charge that was accumulated on one object flows through a conductive path to the neutral or oppositely charged object.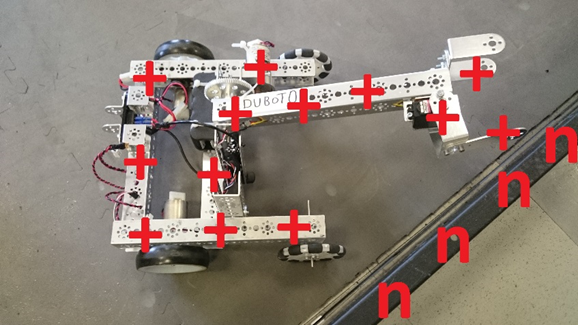 How Robots Become Charged
Consider what happens when you shuffle your feet on a carpet in wool socks and then touch a door knob. You'll almost certainly get a shock. What causes this phenomenon? When two surfaces interact, there is a small amount of adhesion. This means that they share electrons and if they are made from different materials the electron sharing may be uneven. When the surfaces are taken apart, they can become charged. This is called the triboelectric effect.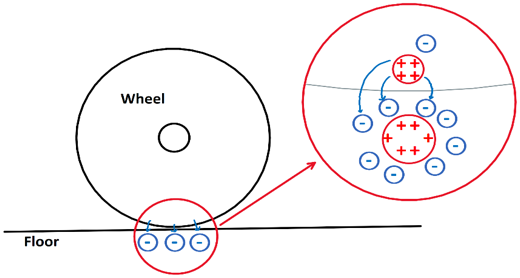 A robot's wheels moving on field tiles build charge on the robot frame just like your wool socks moving on carpet build charge on your body. Many other plastic and rubber materials behave similarly. It is important to note that triboelectric charging takes charge from one object and gives it to another, so the charges are mirrored. In the case of a FIRST Tech Challenge robot, positive charge accumulates on the wheels and negative charge accumulates on the tiles.
Note that a robot with wheels that slide across the soft tiles of a competition field will build electrostatic charge on its frame more rapidly than a robot with wheels that roll across the tiles.
Discharging a Robot
Current "wants" to flow from objects at higher potential to the objects at lower potential to equalize the voltage difference between them and it will if given a conductive path to do so (like an uninsulated wire). In the case of a robotics competition, if a robot is at a higher potential than another metallic object (such as a portion of the game field), an ESD event will occur if the frame of the charged robot contacts the other object.
If the potential difference is high enough, it is also possible for current to flow through the air in the form of an electrical arc. Arcing occurs when the air between two differently charged conductors becomes ionized and allows current to flow from one conductor to the other. Arcs at voltages seen on FIRST Tech Challenge robots can jump air gaps of more than 3/8" (1 cm). Arcs behave almost like direct contact, so they can carry a significant amount of current. Visible sparks go with large electrostatic arcs.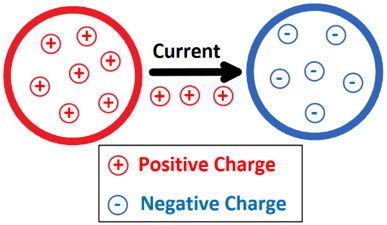 What Steps can be Taken to Mitigate the Risk of an ESD Disruption?